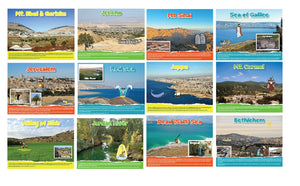 Take a trip to the Holy Land with these current day photo's of popular cities, rivers and seas in Israel and Egypt. To be used in a Bible classroom to help children visualize where the stories took places and learn that they are real places even after 2000+ years.
Each photo includes a description and bible references of stories that took place there.
Twelve 8.5" x 11" posters.
Photo's include: Sea of Galilee, Jericho, Mt. Carmel, Jerusalem, Bethlehem, Mt. Sinai, Dead Sea, Joppa, Red Sea, Jordan River, Mt. Ebal/Gerizim, and Valley of Elah.
Great addition to a bulletin board or use individually while teaching each story.