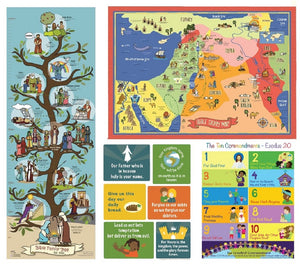 Four beautiful and educational posters for kids. Bible Story Map, Ten Commandments, Lord's Prayer and Bible Family Tree and Timeline. They are colorful, engaging and perfect for the visual learners.
Perfect set for Sunday School classrooms and bulletin boards.
Set includes: Bible Story Map (18" x 24"), Ten Commandments (17" x 22), Bible Family Tree (14" x 22"), The Lord's Prayer (17" x 22).