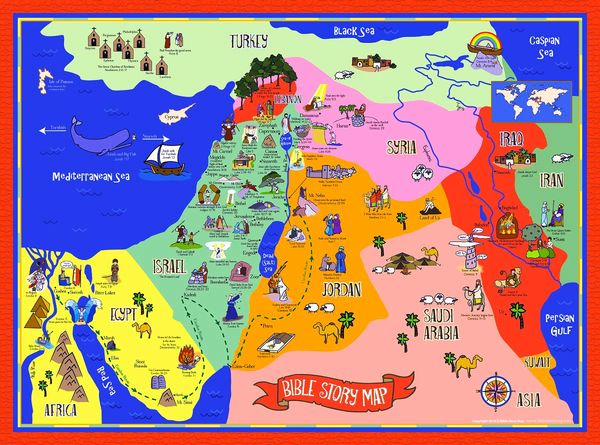 Available as a laminated poster or wall decal sticker

Illustrations of over 40 Popular Bible Stories on Map

Kids can study the Bible by visualizing locations of key Bible events

Find locations of over 40 Bible Stories in present day countries

Perfect Poster for Sunday School and Christian School Curriculum
This colorful and easy-to-read Bible Story Map is an excellent teaching tool to learn the locations of over 40 popular Bible Stories. It includes Israel and surrounding countries with images of over 40 popular bible stories in the locations referenced from the Bible. Learn the locations of Moses and the Exodus, Jesus feeding the 5000, Towel of Babel, Joseph, Abraham and Isaac, Saul, Sampson, Garden of Eden, Three Wise Men, Noah's Ark, Jesus walking on water, Where David hides from Saul, Jericho, Moses looking at the Promised land, Ruth and Naomi, Jonah and the Big Fish, The 10 Plagues, Paul Preaching, Daniel and the Lions, etc. Each Bible Story listed is also referenced with the Bible Verse where it is found. Laminated for longer use. *Also see our Ten Commandments Poster for Kids and Bible Family Tree for Kids. 10% of all sales go towards Israel study tour scholarships.